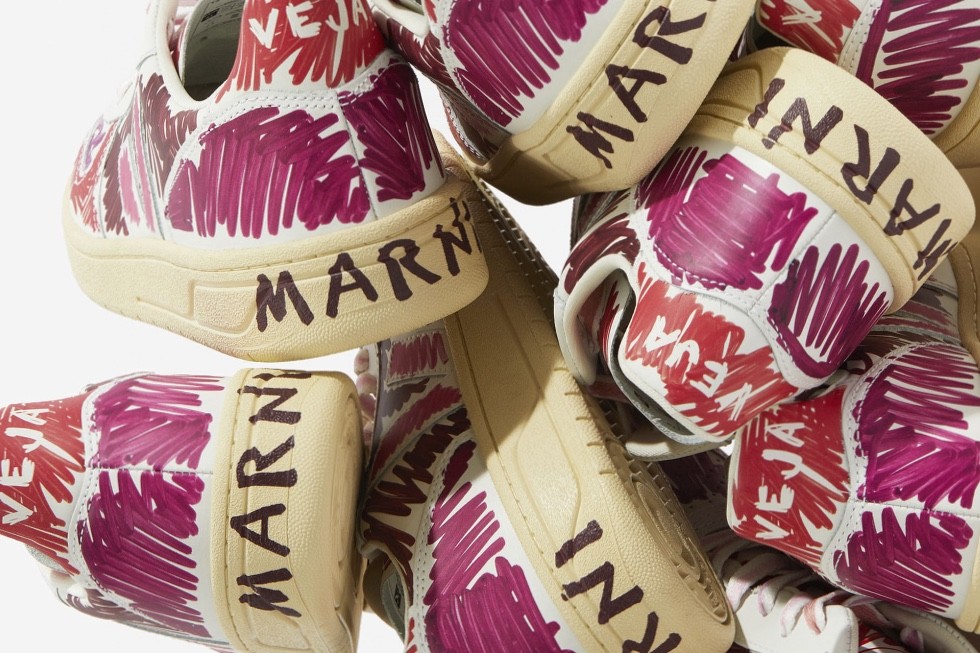 VEJA and MARNI introduce two co-branded sneakers, revisiting a slightly nostalgic design with a DIY-inspired look. VEJA's commitment for environmentally-friendly production methods and socially-responsible business practices meet MARNI unorthodox approach and free-spirited design.
MARNI reinterprets VEJA's V-10 and the newly introduced high-top V-15 through a colorful, scribbled motif. At the intersection of craftsmanship and industrial work, each pair has been assembled by hand, with the right shoe different from the left to further underline the sense of originality that underscores the design.
VEJA's attention to production standards is reflected through materials, with leathers sourced in Uruguayan farms and tanned in Brazil (at a Gold-certified tannery by the Leather Working Group) and soles composed of 31% Amazonian rubber, 22% rice waste, and 12% recycled rubber.
V-15 VEJA X MARNI
$320.00
V-15 high-top sneaker with multicolored "scribble" print. Leather upper with perforated toecap and rubber sole sustainably sourced. Recycled polyester lace-up closure. MARNI graffiti-style logo at the heel. Made in Brazil. Seen below:
V-10 VEJA X MARNI
$270.00
V-10 low-top sneaker with multicolored "scribble" print. Leather upper with perforated toecap and rubber sole sustainably sourced. Recycled polyester lace-up closure. MARNI graffiti-style logo at the heel. Made in Brazil. Seen below: 
Find all the designs from the VEJA X MARNI collection here
Crafted by Yasmine M