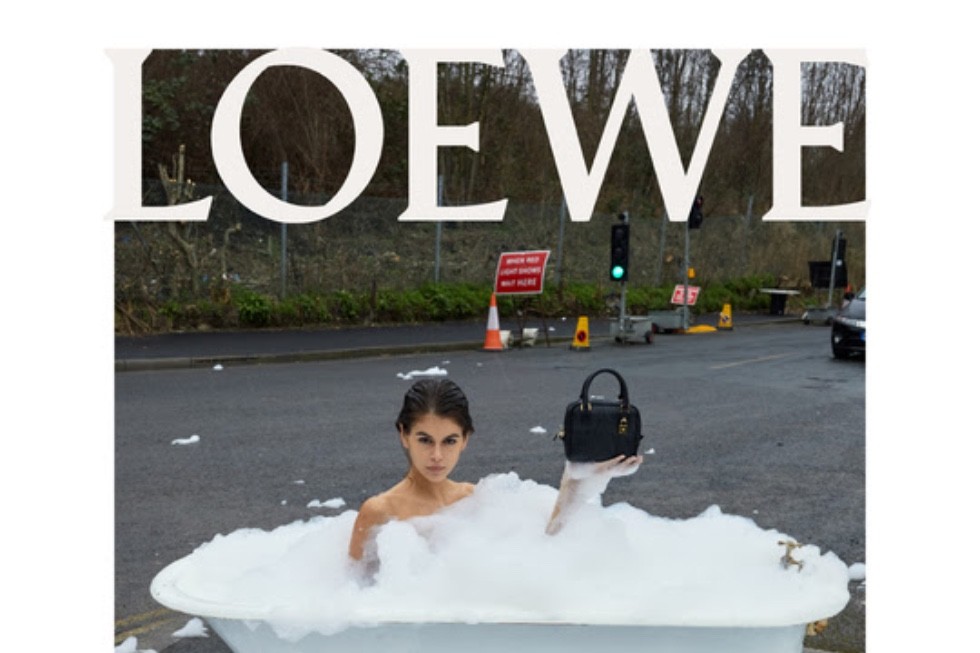 A blunt document of an extended creative community, lensed by Juergen Teller. Individuals of all ages, pictured, compose a gallery of singular characters that include Welsh actor Anthony Hopkins, Saudi Arabian musician Alewya, American model Kaia Gerber, Japanese Paralympic athlete Maya Nakanishi, American sculptor Lynda Benglis.

The campaign, shot in different cities across the world, both in interiors and en plein air,
strives on the direct, unapologetic gaze and the sense of humour Juergen Teller is known
for. Kaia Gerber appears in a foam-filled bathtub, in the middle of the street, holding the
Amazona 16 Square bag in the hand like a prized possession. Caroline Polachek is pictured
in a beauty parlour, complete with pink walls and a pink flamingo, under a hairdryer, the
Large Flamenco Clutch bag on her lap. Alewya sits on a wooden stall, the Small Puzzle
Edge bag between her legs. Josh O'Connor is in a field, wearing a sheepskin coat in a
weightlifting pose, the Anagram Tote bag on his shoulder like a trophy. Lynda Benglis is in
her studio, wrapped in multicolour fringes and textures, the Large Flamenco Clutch bag on
the table. Anthony Hopkins nonchalantly leans on the wall, outside an LA mansion, with an
Anagram Studs T tote in hand. The raw playfulness of the portraits highlights the spirit of
each character, which in turn brings to life the energetic ethos of the LOEWE pre fall
collection, a mix of athletic shapes, bold colours, wild textures and sculpted physicality,
with decisive outerwear as a signature. Iconic LOEWE bags, meanwhile, are presented
in an array of new iterations, from colourful to metallic leathers, and a variety of sizes.
Juergen Teller's direct, playful portraiture once again gives a pulsating tangibility to the
LOEWE prismatic identity.