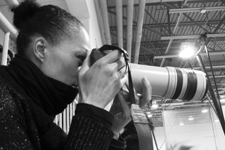 Born in Munich, Germany and raised in Stockholm, Sweden, Claudia developed an appreciation for the arts at an early age. Her surrounding environment consisted of people deeply involved in the creative arts and fashion and was given her first camera at the tender age of nine.
Claudia began her career with photography classes and assisting photographers in Stockholm. She later moved to Paris to pursue assisting and study french at Collège de Sorbonne .
Eventually she moved to New York City to attend The International Center of Photography, followed by several years assisting various photographers before becoming the manager of one of New York's leading rental studios.
In 2000 Claudia finally ventured forth as a freelance photographer and landed major advertising and editorial clients such as IKEA, Volkswagen, Glamour Magazine and Cosmopolitan Magazine.
Since then, Claudia has has successfully expanded her professional experience with co-founding CLAPHmagazine as well as Art- and Creative direction.
Claudia shares her time between New York and Stockholm.