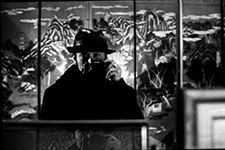 Jus Vun was born on the island of Borneo, migrating to Australia during his childhood years and graduated with a Business degree. After 5 years working in Universities & the Australian Government, he escaped a lifeless career in Financial Systems and moved to Tokyo.
 He discovered a burning passion for photography whilst immersing himself in Japanese arts, culture and his new environment. After much deliberation, he moved to Paris in 2012 to pursue a European
MFA
in Photography at
SPEOS
Photographic Institute which influenced him to shift his focus to fashion photography. Working in the field of education, he continues to endeavor his life to photography, fashion, the arts and travel in which he has been to over 25 countries. 
A visual sensualist, his fashion and portrait work reflects the many spectrums of the human psyche. His interest in photography extends beyond fashion and portraiture as can be seen in his personal work which focuses on documentary projects with social issues occasionally working with NGO groups. In addition, he has a keen interest in the human condition, urban & underground subcultures and the beauty of the female form.