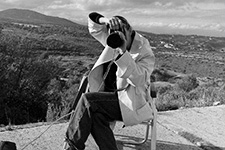 Danish born Sarah Paaschburg lives in Copenhagen working both domestically and internationally. She started out her career in fashion working as a stylist and creative consultant, however pursuing a growing dream of becoming a photographer.
This, not meaning she left behind her great interest in fashion and clothes. She regards and respects fashion as a highly unique way of expressing oneself. Especially these years, working as a stylist for multiple designers and magazines, mixing and matching high fashion clothes and accessories in order to create interesting and outstanding outfits, has formed a unique way of interpreting the latest trends and themes and has had a great impact on her approach to fashion photography in general.
Personal and creative development as well as adding new skills is a high priority of hers. Keeping oneself relevant and up to date, is truly important when working within the field of branding and creating strong DNA's through visual storytelling. Developing and creating campaigns, editorials, and 'in the moment' content, images, and videos. Truly fascinated by the ability to tell a story through the quirky, twisted yet beautiful photo. Always striving to add that specific detail, contrast, strange angle, or even ugliness to an image in order to make it more appealing and interesting for the spectator.
She regards herself as a fluid creative soul not having any restrictions of media or creative language. Knowing each step of the creative journey from idea to the execution of a project.
follow my present and future
@sarahpaaschburg