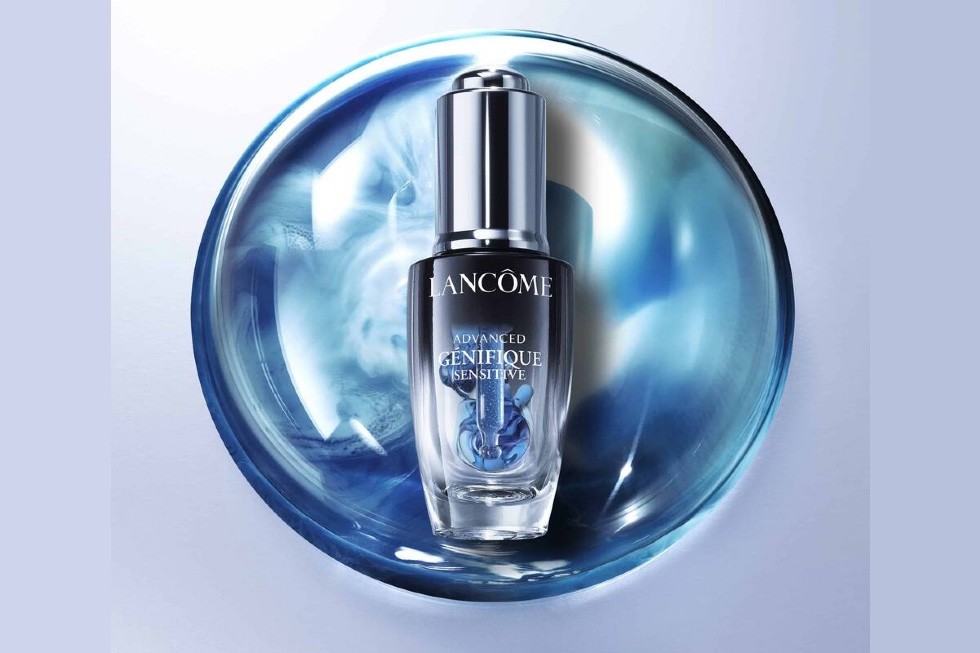 Active Recovery Serum for Sensitive, Stressed Skin

The new Advanced Génifique Sensitive serum from Lancôme, combines two concentrates and is developed to meet the specific needs of sensitive skin. Proven to strengthen skins barrier, instantly soothe the feeling of stressed skin and to leave skin feeling balanced.
When reading all of this, it sounds lovely for us with sensitive and reactive skin. The serum comes handy now when the season changes, and the stress of modern life can make skin react with feelings of tightness and discomfort. So, Odalisque Magazine have done a 30 days trial to see if this serum lives up to the expectations. 
The new serum, that released earlier this fall – have a very refreshing, lightweight texture. When first opening, you notice that the bottle is separated in two, containing the serum and the patented blue concentrate - which remains sealed until activated. Furthemore, by the first try, you follow the instructions and the blue, water-color-like formula appears. By doing this, I can't lie, I was very excited. Lancôme is rewarded for creating luxurious skincare with ambassadors such as Julia Roberts. For this reason, in my first use of the brands skincare line, I feelt that I have stepped onto gold. The blue concentrate, is enriched with antioxidant Ferulic acid and Vitamin E. The serum is enriched with the patented Génifique complex with 7 pre- and probiotic fractions that have been selected for their complementary effect of strengthening the skin barrier.
At the first 1-2 applications, my skin became a bit red and irritaded at first – reacting to the new highly concentrated serum. But, I was not to be scared by my first impression, I wanted to give it a fair chance. Lancome states that after 30 days, my skin barrier would improve and my skin would feel softer. After a week or two, using the product at least every other day, I could feel a slight difference. My skin feelt smoother in a way and the redness disappeared. But is it enough? Now, over 30 days afterwards, I have to be honest I forgot to use it everyday. I used it once or twice a week, when I wish to boost my skin, and give it a bit of fair love. Perhaps it's hard to know if your skin barrier get's healthier since we maybe don't always see it with our eyes. But I always go back to my Advanced Génifique Sensitive when I need that extra boost for my skin. And have become a regular when my skin feel tired or dry. So, I guess it worked? 
I would however, try one of the smaller sizes as first, to see if your skin type favours the serum. The price is a bit high, for a bottle that says that the best time to use the serum is within the first 2 months. And I can't finish the bottle within 2 months. It's been 3 months now, but I truly hope it still works as effective.
Read more about Advanced Génifique Sensitive, at Lancome.com